Chenille 101
What should you look for in chenille patches and letters?
Two main characteristics indicate that you're ordering quality chenille patches and chenille letters for your students.
Plush chenille: Your patch or letter should have a plush pile of chenille loops (the raised portion of the letters) that are an even height. There should be no visible gaps between the loops and they should be evenly and consistently spaced throughout the patch or letter.

Clean trim: Each patch or letter should feature a clean, precise cut and rounded curves.

Color fastness.  Look for rich, solid color.
We produce several kinds of chenille patches and letters ranging from single-color options to 3D alternatives.
How to measure letters
The actual size of chenille emblems is measured from top of chenille to the bottom of chenille.  The felt backgrounds are not included in the measurement. The size of the emblem is typically in exact inches.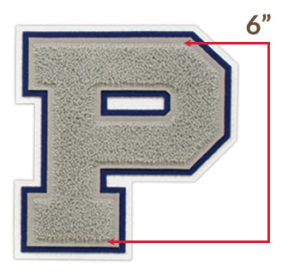 Chenille Inspiration
6" letters are the most common size and fit well on the chest of both boys and girls jackets.




Use a "contrasting sew-on" to dress up your letter. This works particularly well on a standard 1 color letter.

Consider ordering your annual supply in the summer or September. You only have to order once all year and any inventory left over can be used the following year.

Have us embroider your school name or mascot on your letters to give a distinctive look and immediate recognition such as "KENNEDY" or "Panthers".

Metal pins are the choice of many schools since that can be presented to the student and are easy to attach them to the letter. Embroidered inserts have to be sewn onto the letter.

Academic letters often are decorated with a lamp of knowledge or torch and wreath insert.
FAQ
I'm a new customer, can US Awards match my emblems exactly?
Absolutely!  Matching your school's design and color is very important to us.  With US Awards your tradition is intact and matching emblems allows you to save money by not having to replace your current inventory.  We will make a sample of your emblem for free, and return it to you in 5 business days.

How do I provide my existing design to US Awards?

Upload your emblem on the Get a Quote page.
Send your emblem to US Awards, PO Box 1537, Pittsburg, Kansas 66762.  
Or, make a copy of your emblem and email it to customerservice@usawards.com along with a description of the colors.

How can I order from US Awards?
We always enjoy talking directly with our customers.  Our customer service representatives can quickly lead you through the ordering process by calling 800-835-0664.   You can fill out the Get a Quote form. We also accept orders via fax or email.
Does US Awards send out order confirmations?
Yes, you will receive a detailed confirmation via email within 24 hours.  When your order is shipped you will received an emailed notification including the expected delivery date and the tracking number .

Can I get a sample of my emblem?  What is the cost?
Yes, you can get a sample of your emblem for free.  Simply upload a photo of your letter, mail us your letter, or take a photocopy and fax or email us the design.

How long has US Awards been in business?
US Awards has been in business since 1953, and is one of the premier chenille manufacturers in the country. We provide jobs to American craftsmen making letters right here in the Heartland.

Why order from US Awards?
Customers have been ordering from US Awards for decades because of our consistent quality, fast turnaround and our ease of doing business.

How do I place a reorder?
Reorders are very easy!  Simply call 800-835-0664 and we will insure your emblems are matched exactly.

When should I place an order?
Many schools choose to place their order for a full year during the summer or at the beginning the school year for letters, numerals, academic awards, and certificates. Patches for championships and playoff events, of course, can't be ordered in advance.
What if I need special turnaround to meet a banquet date?
Nothing makes us happier than knowing that your letters are there when the student athlete is being recognized.  Occasionally a customer gets in a bind and needs a favor. Give us a call, and if possible we will do everything in our power to meet your needs.  This is when US Awards shines!
Is there a US Awards representative that can come to my school?
We do have representatives across the country.  However, many customers contact us directly at our offices in Pittsburg, Kansas.